WELCOME TO
Wallabies Rest
Wallabies Rest is a glamping tent set in the Australian bush offering a retreat from everyday life in a private, romantic and peaceful setting. Especially designed for couples, this tent is easily accessed directly off the Castlereagh Highway via an internal road suitable for any vehicle.
Wallabies Rest is currently Closed.
For further information please contact us.
YOUR ROMANTIC RETREAT
Escape to Wallabies Rest
"Wallabies Rest" is a fully self contained and spacious glamping tent with a large elevated deck in the central tablelands of NSW.
Peter and Tracey welcome you with a complimentary bottle of wine, a freshly baked loaf of bread and goodies such as chocolate and marshmallows. There is a fire pit with wood supplied to keep you warm beneath the stars at night whilst you listen to the sounds of the Australian bush.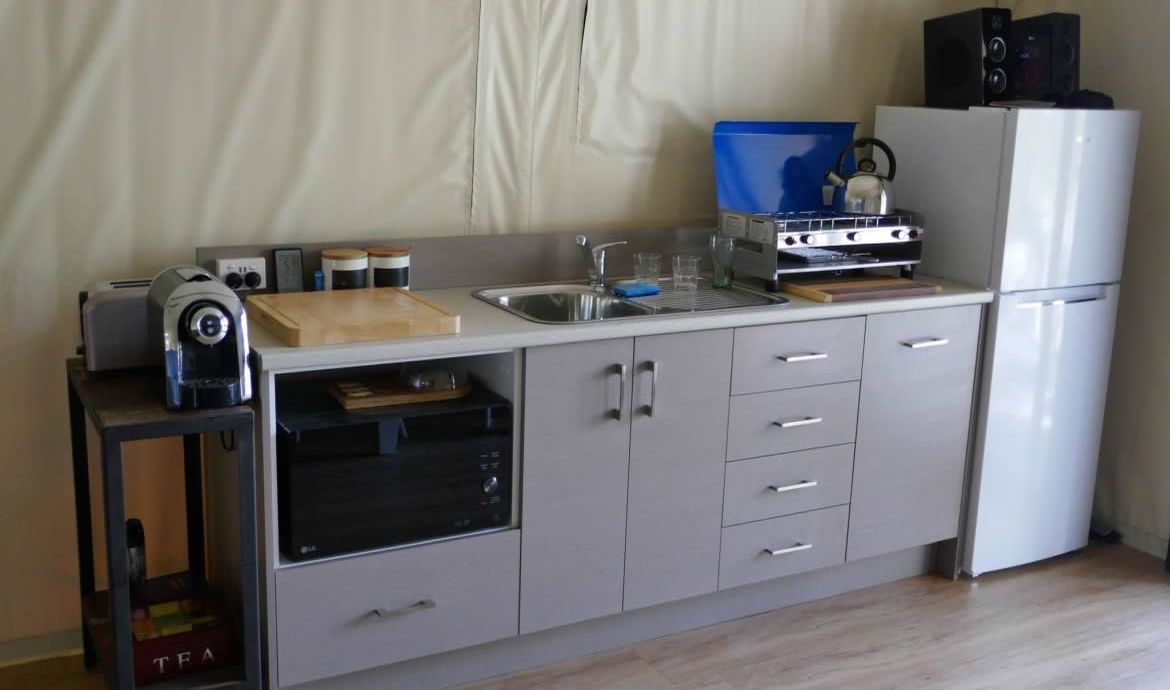 The Kitchen
Cheese board with knife, coffee machine with pods, corkscrew opener, crockery, cutlery, drinking and wine glasses, fridge/freezer, kitchen utensils, LP double gas stove, microwave oven, olive oil, salt and pepper, saucepan and kettle, sponges, cleaning products including dust pan and broom, sugar and sweeteners, tea towels, toaster.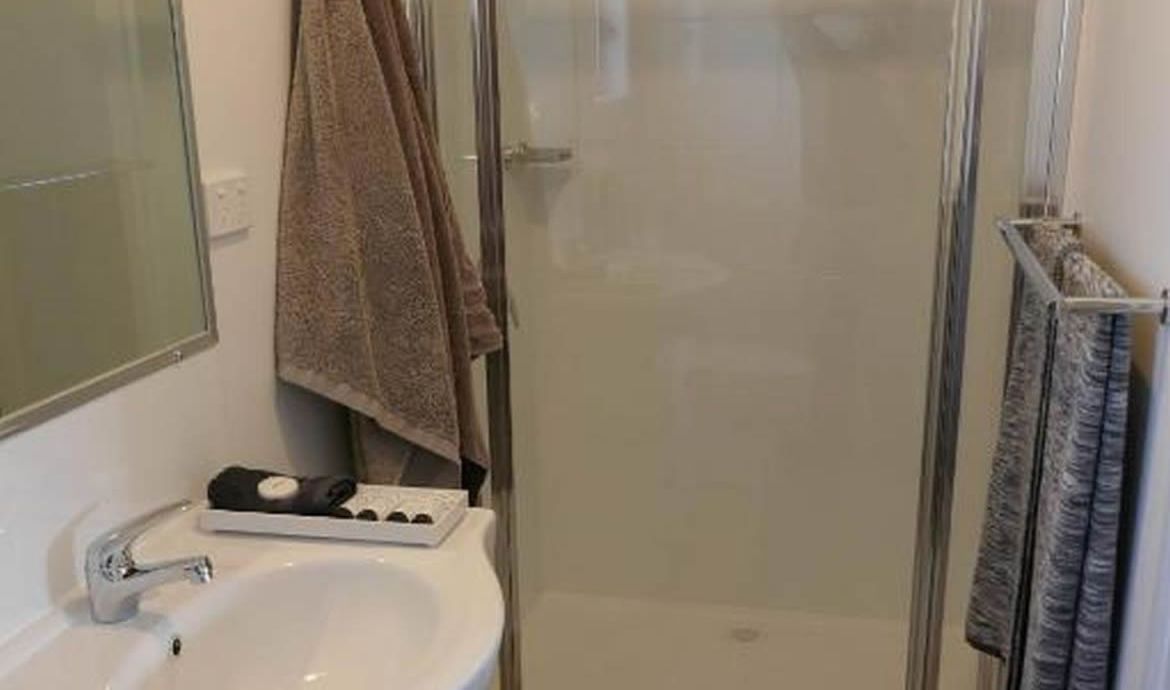 The Bathroom
Has a proper flushing toilet and a large shower with exhaust fan and heat lamps, also provided are towels, washers, floor mat, hand soaps, body wash, shampoo & conditioner, tissues, toilet paper, fly spray insect repellent and a hair dryer.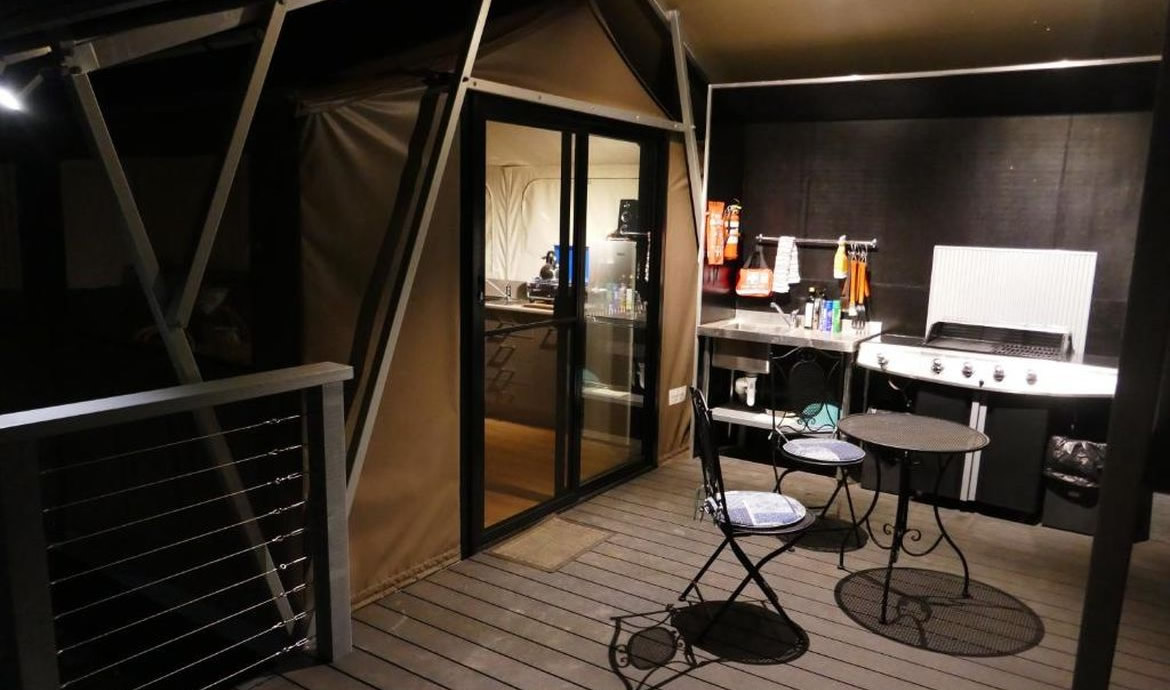 Outdoors
A BBQ and outside sink are on the deck along with an alfresco table with two chairs and two sun lounges with a side table. Below the deck is a fire pit on a large cleared area with chairs and a garden hose for any fire mishaps. Please note: no fire during any fire bans, as you appreciate this is beyond our control. The car park, deck and fire pit can be illuminated for use at night.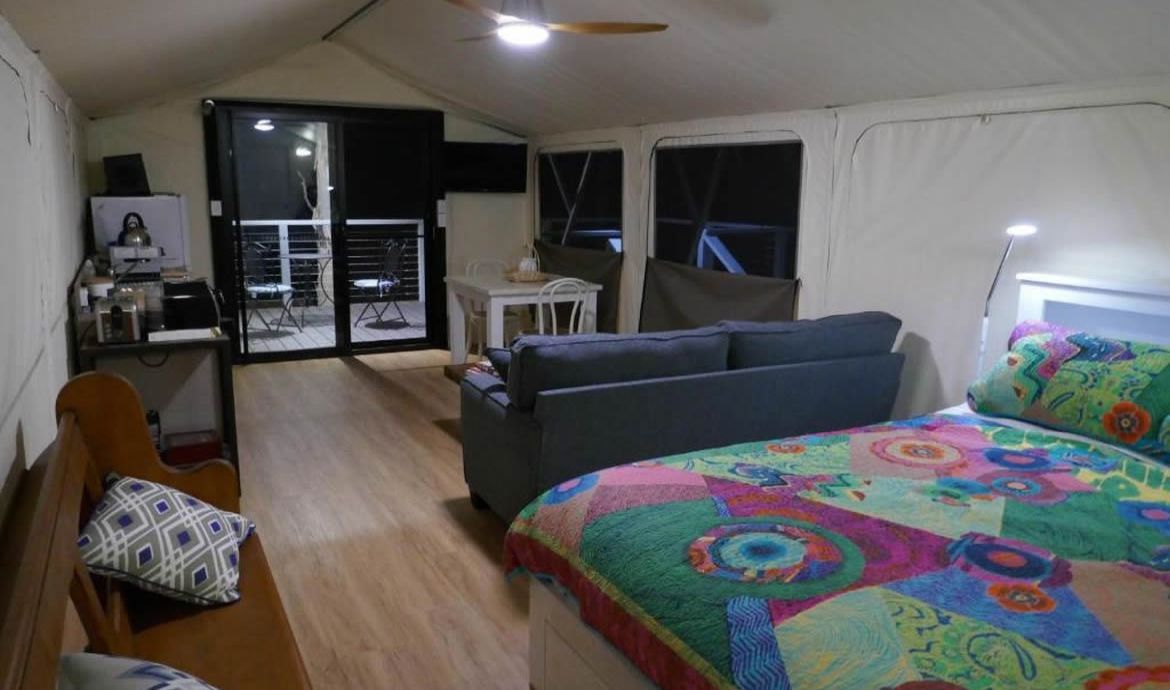 General
Basic first aid kit, bottled drinking water, ceiling fan, DVD player, fire extinguisher and fire blanket, iron and ironing board, smoke and carbon monoxide alarms, kitchen table and chairs, queen bed and bedding with firm and soft pillows, electric blanket, sofa, sound system with blue tooth, USB charging points.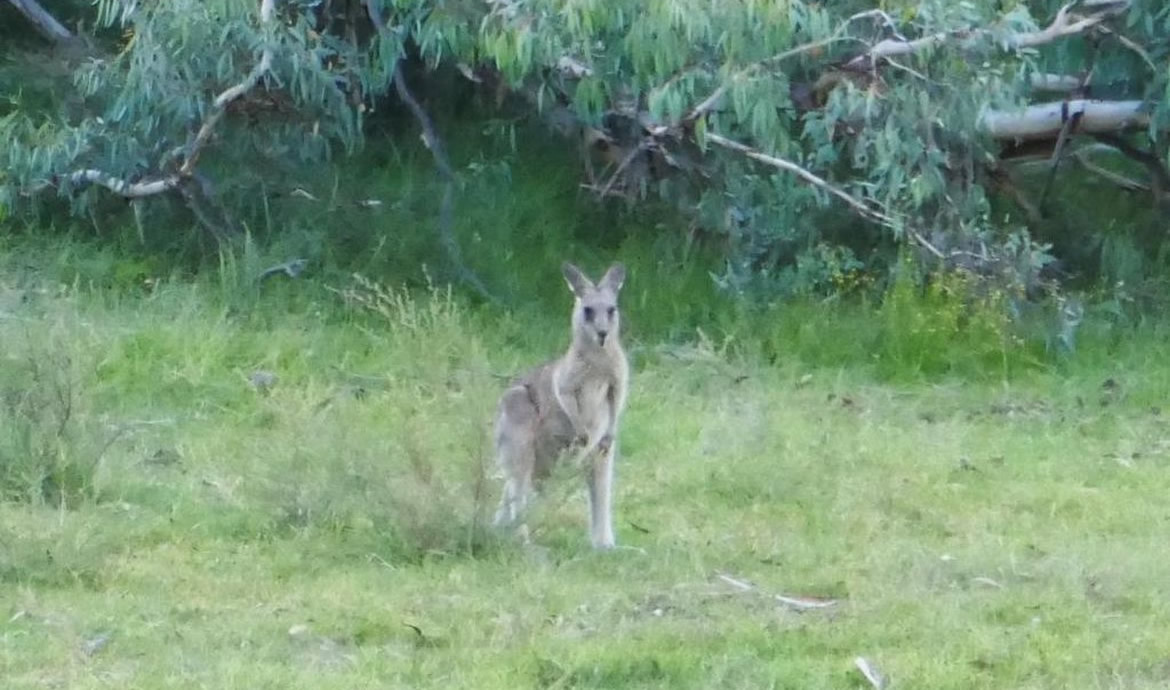 Time to Relax
The tent is located on a small farm and adjacent to the Gardens of Stone State Conservation Area, with assured privacy and rural farm views. Late in the afternoon you can sit on the deck and watch the kangaroos and wallabies peacefully grazing, hence the name "Wallabies Rest" and in the morning wake to native bird calls. There is plenty of bush walking or horse riding trails in the Gardens of Stone State Conservation Area adjacent. Please do not feed the wildlife bread as it causes them harm.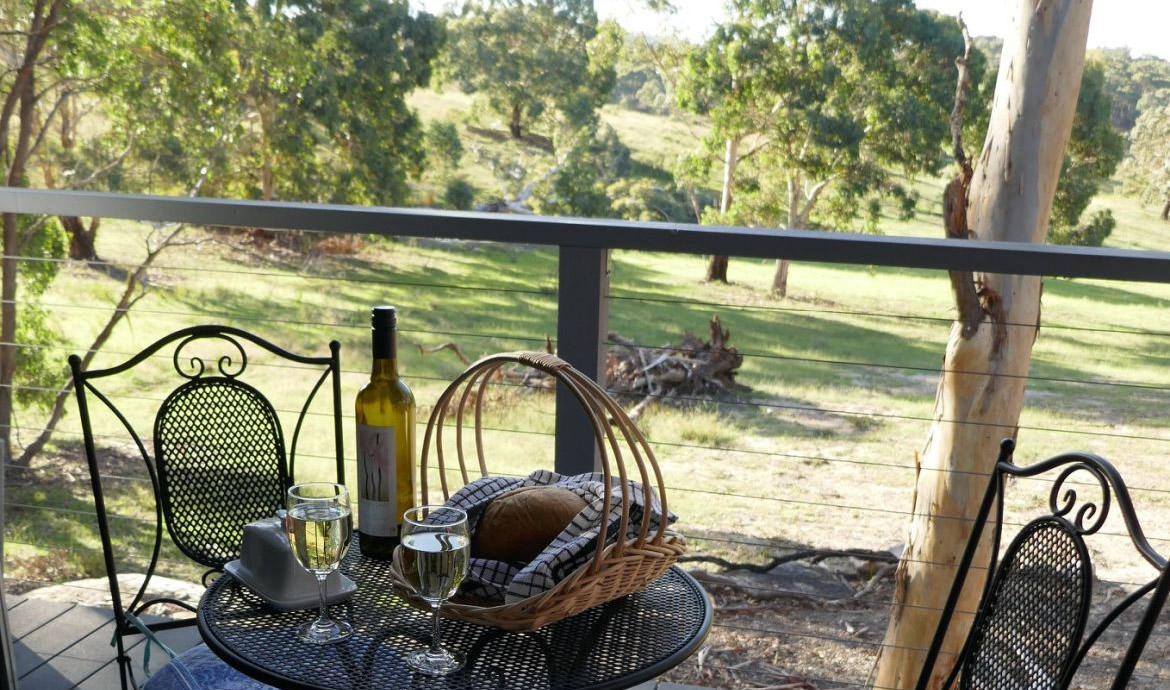 Activities
An easy 30 minutes drive north of Lithgow and within one hour of the vineyards of Mudgee, this location is ideal for day trips and experiences within the region, including the stunning Capertee Valley and Newnes in the Wolgan Valley, Bathurst, Lake Wallace, Rylstone and the old gold mining town of Sofala.  There are numerous quaint country pubs, food retailers, and restaurants in the area.
OUR MISSION
Sustainability &
Care for the Environment
Wild (non-domesticated) animals are not displayed or interacted with while kept at the property.
Water-efficient toilets
Water-efficient showers
Option to opt out of daily room cleaning
Option to reuse towels
Energy and greenhouse gases
Most lighting throughout property uses energy-efficient LED bulbs. 100% renewable electricity used throughout.
Recycling bins available to guests and waste is recycled.

Verified
Eco luxury ☺ Loved that all bases of our stay were covered EVERY WHERE! We brought marshmallows to roast, lo and behold, they were already provided! The fire pit was my favourite part. It was very cold mid winter, but there were plenty of ways to stay warm, fire pit, electric blankets, extra blankets and gas heating. Peter and Tracey really looked after us ☹ Nothing really

Verified
Relaxing, breath taking stay! Amazing views and welcoming and helpful hosts ☺ Hosts were extremely friendly and inviting ! Went out of their way to ensure we had the best stay possible! Tent was clean, exactly like the photos and location was amazing ! Would highly recommend this stay to anyone and will be coming back 🙂 ☹ Nothing

Verified
Amazing place to stay! ☺ Location was great, out in the open bush. The space felt so nice and welcoming 🙂 The hosts have set up a cozy spot in an amazing location. My partner and I will happily return in the future.

Verified
Exceptional

Verified
Exceptional

Verified
Amazing accomodation in a stunning setting. Loved the stay ☺ Beautiful and clean accommodation, in an absolute stunning setting

Verified
Looking to get away from it all to totally unwind, this is the place. ☺ Location, clean, special touches, this place has it all.

Verified
Superb ☺ the accommodation had everything your could need - all the kitchen facilities and accessories, outdoor kitchen, lovely deck with outdoor lounges, fire pit, fridge, microwave, stereo, even a heater. Bathroom was good, plenty of hot water to cover the chilly nights. Fresh bread and bottle of read wine were lovely. ☹ all good

Verified
Pure bliss ☺ A wonderful spot ! We had the most relaxing and enjoyable stay ! Our hosts went above and beyond to provide us with everything we needed and the tent was immaculately clean. Highly recommend this accomodation for a peaceful escape in nature. ☹ Nothing at all !

Verified
Great bush retreat to use a base for exploring the area, ☺ Glamping at its best. Beautifully furnished and fitted out with everything you need. Fresh baked bread and a bottle of wine were a way to greet guests. Very friendly host.
recommends
Such lovely accommodation well executed. The hosts attention to detail and quality made our stay very enjoyable. So peaceful and private, overlooking wildflowers one direction, and paddock with horses the main view.
Kathy Sewell
7. November, 2021.
recommends
nice views, quiet, great location to explore The Capertee Valley. The owners are lovely
Graeme Hills
7. November, 2021.
recommends
wallabies rest is the perfect getaway for a relaxing, peaceful escape from everyday life. The location is absolutely perfect. Peter and Tracy have thought of everything. Its glamping at its finest. The accommodation is spacious, extremely well presented and immaculately clean. You have everything you need to retreat to the Bush for a night or few. Peter and Tracy graced us with the warmest of welcomes, showed us where everything was and left us to enjoy the peace and quiet, but were more then happy to help where needed. my husband and I will definitely be going back. Peter and Tracy it was lovely to meet you and we Cant thank you enough. 15/10
Alicia Hirst Boyle
26. May, 2019.
recommends
Spent a relaxing weekend at wallabies rest. Very neat and tidy with a comfy bed, also self contained with modern conveniences. Peaceful surroundings in a bush setting. Visited Rylstone a nearby town and stopped at winery on the way back. Had an enjoyable dinner at Capertee hotel, which is a 15 min drive from the accomodation. I highly recommend this glamping experience.
Lynn McNamara
17. March, 2019.
recommends
Great stay, had a great time, setting and facilities where wonderful. Strongly recommend this place. And would definitely stay again.
Evan Miller
6. March, 2019.